New state and federal guidance released yesterday recommends postponing large, non-essential events to help slow the spread of COVID-19, therefore the 9th Wisconsin Citizen-based Monitoring Conference is being postponed. All paid registrations will be refunded (no need to contact us), but each must be processed by hand so we ask for your patience with that process. Please remember to cancel your lodging reservation as soon as possible.
Join us for this can't-miss event featuring research and project presentations, resource sharing, networking opportunities, an awards banquet, an equipment swap, and more! Everyone involved in citizen-based monitoring is encouraged to attend.
Conference Overview
Date
Cost
Programming
Meals
Friday, March 20
(Full Day)
$40
Keynote Speaker: Dr. Karen Oberhauser
Concurrent Presentations & Workshops
Project Slam
Equipment Swap & Door Prizes
Networking Session
Awards Banquet
Morning Snack
Lunch
Afternoon Snack
Dinner
Saturday, March 21
(Half Day)
$20
Concurrent Presentations & Workshops
Equipment Swap & Door Prizes
Breakfast
Morning Snack
Here is the full conference program.
Keynote Speaker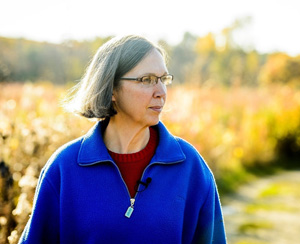 Photo Credit: Bryce Richter, UW Madison
We're excited to announce that Dr. Karen Oberhauser, Director of the UW-Madison Arboretum will be our keynote speaker. In addition to being a world-renowned expert on the monarch butterfly, Dr. Oberhauser is the founder and director of the Monarch Larva Monitoring Project, a national citizen science effort with many volunteers right here in Wisconsin. She has also developed and led numerous programs that help educators use citizen science in classrooms and nonformal learning environments.
Talks
The conference features 34 talks from researchers, project leaders, volunteers, nature center staff and educators. Each talk will be 15 minutes total (a 12-minute presentation followed by 3 minutes for questions and answers).
Workshops
One-hour workshops will be offered on both Friday and Saturday. These provide attendees with a chance for more in-depth training. No pre-registration is required beyond basic conference registration. View summaries of the workshops listed below:
Bumble Bee Identification
Call of the Frog: Promoting Frog and Toad Survey Phenology Survey
Citizen Science Open House as a Model for Public Engagement
Interactive Online Tools for Improving Monitoring and Data Sharing: An Introduction to Tableau
Snap-A-Thon: Identify Wildlife Images
Wisconsin Mussel Monitoring Program Training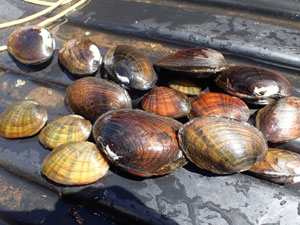 Photo Credit: J. Weinzinger
Project Slam
The fast-paced and fun Project Slam will provide quick introductions to many of Wisconsin's major citizen-based monitoring projects. Project leaders will have two minutes to provide an overview of their project and tell attendees how they can learn more at the conference, such as by visiting a table or attending a talk or workshop.
Equipment Swap
Exchange your old monitoring equipment for new-to-you treasures! If you have equipment that you don't use any longer, like field guides, waders, binoculars, or flagging stakes, bring them to the conference for the Equipment Swap. Don't let useful gear go to waste in a closet or garage; share it with others in our citizen-based monitoring community! Only clean, working items small enough to be transported in a standard vehicle are allowed. No chemicals, weapons, or dangerous items allowed.
Educational Tables
A limited number of tables are available for educational exhibits and displays on a first-come, first-served basis. Displays should be up both Friday and Saturday, and tables should be staffed at minimum during the breaks. Conference registration is required to host a table.
Door Prizes
We'll be handing out great door prizes to some lucky attendees on Friday and Saturday..
Scholarships
A limited number of scholarships are available for registration costs, to assist individuals for whom attending the conference presents a financial hardship. Each individual should apply for their own scholarship, except for educators, who may apply on behalf of a K-12 student or students.
Venue and Lodging
Conference Location: Holiday Inn Manitowoc, 4601 Calumet Avenue, Manitowoc
Overnight Accommodations: A block of rooms for March 20 have been reserved at the Holiday Inn Manitowoc until February 19, 2020, or when the block is filled. Conference participants will pay the nightly rate of $109/night (not state rate eligible), plus applicable taxes. Those who are state rate eligible will pay $82/night for a single or $92/night for a double. State rate eligible means that the State of Wisconsin will be paying directly for your guest room reservation (or reimbursing you per travel policy.) The hotel will provide the same rates for conference attendees for 3 days pre- and post-conference.
When making a reservation, use the group code DNR. You can reserve rooms using the group code by calling the hotel direct at 920-682-6000, calling 800-Holiday or by reserving a room online at Online Reservations - Holiday Inn Manitowoc.
CBM Awards
Awards for outstanding achievement in citizen-based monitoring will be presented during Friday evening's awards banquet. Nominations are now open. Make your nomination by February 16 using our online form.
Thank You to Our Conference Sponsors!