Success Stories
---
This is why we do what we do.
Rare orchid discovered along former railroad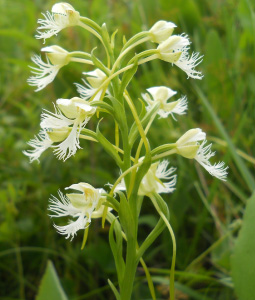 Eastern prairie fringed orchid (Platanthera leucophaea) is one of six federally threatened plants found in Wisconsin, its rarity linked to the rarity of remnant wet and wet-mesic prairies. The northernmost fringed orchid population is found in Winnebago County on thin strips of land along former railroads. Here a few scattered populations have hung on over the years. Historically, the Winnebago populations were closely monitored, but for various reasons, they have gone unobserved since 2007–2008. These beauties are somewhat capricious, notorious for large year to year swings in population size, making small populations all the more vulnerable to winking out.
In July of 2014, two RPMP monitors trekked out to the Winnebago County railroad prairies, In search of a few populations of eastern prairie fringed orchid. The husband and wife team were able to find a handful of orchids at two of the three sites, but they also found a prairie that was in dire need of attention. Not having been burned in years, dogwood and sumac were encroaching on the remnant prairie from all sides. On their data collection form they wrote "Unless some management is done, I don't think the orchids will survive." In 2015, a third RPMP monitor who lives in the area and was familiar with the orchid populations, agreed with the earlier assessment – unless something was done, we would lose this rare piece of Wisconsin's native flora.
With this information in hand, the Wisconsin DNR secured funding from the U.S. Fish and Wildlife Service to improve the habitat surrounding the Winnebago County orchid populations. A group of local volunteers, who knew the prairies well and lamented their slow degradation, joined the effort, and in February of 2016, brush was cleared from three sections of prairie where orchids had been found in the past. Then in the spring of 2016, the DNR burned multiple sections of prairie, knocking back more brush and removing thatch that has built up over the years. Without RPMP volunteers sounding the alarm, this work would not have been done. Their efforts directly informed important management decisions about one of Wisconsin's rarest plants.
Volunteers rediscover rare water lily not seen in over 40 years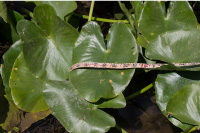 One of the priorities of the Rare Plant Monitoring Program is to collect information on plant populations that have not been seen in many years. It's always good to get updates on populations that have been seen recently, but it's equally important to check in on the ones that haven't to see if they are still hanging on. Many of these older records have scant locational information and many more wink out over time. In short, the prospect of relocating a population not seen in many years can be dim.
One example of this search to relocate past botanical discoveries is yellow water lily (Nuphar advena). In July of 2014, two monitors paddled down the Galena River in southwest Wisconsin hoping to find a population of this rare aquatic plant that hadn't been seen since 1972. Amazingly, they quickly identified the yellow water lily floating in the shallow water near Benton, near where the early collector had described.
Along with pinpointing the location with GPS coordinates, the RPMP monitors were able to add a precise count of the number of plants present. Before their surveys, the DNR had no knowledge of how healthy this population, one of less than ten in the state, was. This is a success story because the rare plant population has persisted all these years but also because our knowledge of it has increased so dramatically.
Rare plant monitors can try to rediscover known populations of rare plants or they can search new areas in hopes of discovering rare plants where they weren't previously known. This was the case in 2013, when three monitors headed out to a remnant dry prairie in Iowa County. The Prairie Enthusiasts owned the land but hadn't done much management on it and looked to the Rare Plant Monitoring Program to collect baseline data before management efforts began.
Volunteers discover new population of federally-threatened plant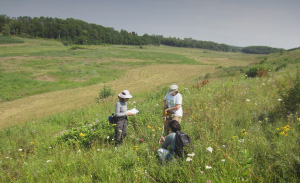 As we swept across the west-facing hillside, we stopped to identify unknown plants. There was tall boneset (Eupatorium altissimum), gray goldenrod (Solidago nemoralis), and naked-stemmed sunflower (Helianthus occidentalis) among others. We squatted down to look at blood milkwort (Polygala sanguinea), a small but pretty and unique wildflower. As a volunteer turned to stand back up, she noticed another strange plant and called us over to see if we knew what it was. We did know what is was, but it was hard to believe our eyes. It was prairie bush clover (Lespedeza leptostachya), the federally threatened prairie legume!
Prairie bush clover had been known from the area but had not been documented on this slope before. The site manager was ecstatic to hear our news. It was a great find and another example of the need for getting more eyes on the ground. In this case, our lack of knowledge about a thing wasn't due to the inherent difficulty in acquiring the information but lack of effort. The plants are out there, it's just a matter of getting out and looking for them. As Woody Allen said, "80% of success is just showing up."
I revisited this site in 2015, and the bonesets, goldenrods, sunflowers, milkworts and bush clovers are still there. As The Prairie Enthusiasts begin to manage this site alongside the other prairie patches in the area, they can use the information on the bush clover population to gauge how successful their restoration efforts are. As a federally-threatened species, the U.S. Fish and Wildlife Service is also interested in the data collected by the RPMP monitors. Discovery of new populations, especially those on land that is protected and actively managed, improves the viability of the species range wide and will inform how botanists view its recovery.